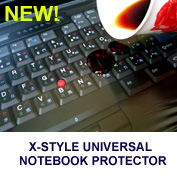 X-style Universal Notebook Protector
Attaches to any brand of notebook keyboard in one easy step!
No more hassle in trying to find the correct model number to match your notebook or desktop keyboards. This new, patent-pending protector fits all styles of notebooks. The protector film is only 0.001in. thick, which makes the user feel like there is nothing on the keyboard.
If you have ever experienced dirt, dust, and liquid spills, which have ruined your laptop, let the new X-style Universal Notebook Protector prevent that from happening ever again.
The X-style is simply the best solution out there in the market today. It's available for both notebook and desktop keyboards. The film is very durable, yet so thin that most people can't even tell there is a keyboard protector.
This application is a perfect solution for use in hospitals, wireless spots, internet cafés, factories, restaurants, service stations, offices, and schools. Wherever keyboard protection is required, let the X-Style Universal Protector be your solution.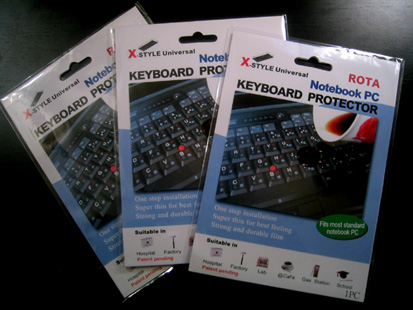 Worldwide patent pending!